Apple didn't invent the music player, they just made it easy to use. Online signups for clinical research studies have been around for years, but remain hard to use.
With careful attention to workflow and always thinking from the perspective of the user, Provoc has successfully increased online conversions in major recruitment efforts for Alzheimer's and Frontotemporal Dementia. Here are the basics of what we've learned.
When you're trying to encourage people to sign up for your study, you want to:
1. Minimize the number of steps involved
2. Simplify visual complexity as much as possible
3. Provide all necessary knowledge and resources about each step in the process (e.g., if asking for sensitive information, let people know WHY)
4. Handle errors gracefully
Balancing these goals is hard, but doable.
Take the example of a signup for a program:
What knowledge does an online user need to complete signup? How will they get it easily without having to get offline, sign into another website, etc?
How much information do we need to convey to the user prior to signup? From a legal perspective? From a HIPAA perspective? From a practical perspective?
What is the most logical way to break up and present the information, especially for someone who is likely not a scientist or medical researcher? Can we test our assumptions about this?
Do we need to allow for users to complete part of the signup and return later to finish? How will we handle this?
Taking such considerations into account, we were able to optimize a multi-step registration process used by 10,000+ people. Alzheimer's researchers needed to explore more effective ways to recruit study participants, and initiated a close collaboration with Provoc to envision and develop solutions. Together, we experimented and improved key aspects of online and offline study recruitment efforts. For example, Provoc gathered behavioral insights through prototyping, usability testing, and quantitative methods (e.g. funnel analysis) to deeply understand and streamline the signup process within all requirements of the study protocols. After redesigning the user flow based on insights gained from testing results, conversion rates improved >20% and helped to power total signups >30K at a record low CPA. We also optimized the mobile user flow, resulting in an increase in mobile signups from 3% of the total to 35% of the total.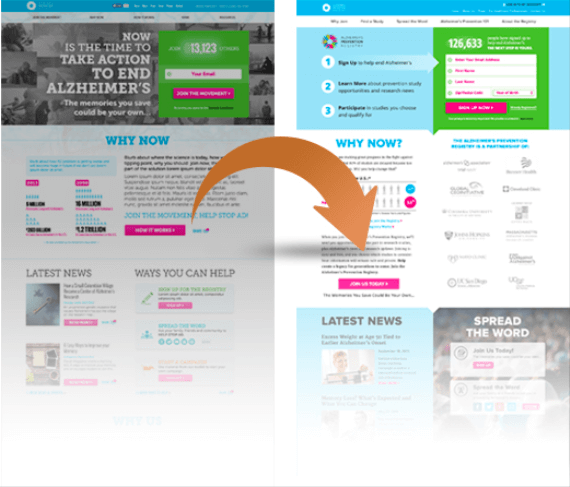 Currently 80% of clinical trials fail to start on time because they aren't able to meet recruitment goals. Provoc leverages technology and user experience best practices to drive digital conversions, increase study signup rates, and ultimately shift the trajectory of our most challenging and pressing diseases. Learn more about our work so far with Alzheimer's and Frontotemporal Disease recruitment on our website, or get in touch with any questions or ideas you have about how we can collectively drive health forward.
For more insights…
Read from our collection of Health Study Recruitment Insights.
Visit Provoc's Health Study Recruitment Program to sign up by email, and learn more about innovations in health study recruitment.