When many organizations develop trial recruitment programs, they focus intensely on the end result—meeting the quota of qualified participants.
That's completely logical; without qualified participants, no study can happen. But by focusing so much on the end result, we sometimes forget the importance of the first step in the recruitment process—human connection. Many participants are driven by altruism or even self-preservation. But if they can attach themselves to a person they trust, they'll be more likely to participate.
Too often, recruitment efforts come off as faceless and impersonal. Even though the value proposition is clearly stated, participants resist. It's simply difficult to trust someone you don't know and can't see. And this applies not only to potential participants but to the friends and family members who help participants get to their appointments on time, who help ensure participants' medication compliance, and who play an active role in word-of-mouth advertising for your studies.
One way to overcome recruitment resistance is to put the names, faces, and stories of your researchers out front. When we do this, recruitment efforts go from faceless to personal. The result is trust, enhanced engagement, and improved recruitment efficiency.
The Proof is in The Numbers
The Alzheimer's Prevention Registry tested messaging concepts on multiple channels. Our most science-forward message performed best out of nine contenders on social media, as follows: "Scientists have made real progress in the fight to end Alzheimer's. The next step is up to you." (We'll cover message testing insights in a future email). We learned that the Registry, composed of scientists already making progress towards ending the disease, is a huge differentiator and motivator. People crave hope but they need a reason to believe. The science and scientists of the Registry provide that fuel. People can feel empowered to personally help the scientists succeed by enrolling or advocating. We have used these insights to increase human connection at the root of our work, through authentic representation of researchers fighting disease for the greater good. This approach has helped to boost registration for a study to 50,000 people in less than two years.
What to Share: Passion, Credibility, and Commitment
To understand how it works, watch the videos below. You'll discover how to boost recruiting efforts by putting researchers' passion, credibility, and commitment front and center. Let us know how this kind of strategy is working for you or if there's any way we can help you humanize your critical research.
Dr. Jessica Langbaum, Ph.D. is a Principal Scientist at Banner Alzheimer's Institute and Associate Director of the Alzheimer's Prevention Initiative. She was inspired in her work by the impact Alzheimer's had on her grandfather. In a video created by Banner PR and shared on the Alzheimer's Prevention Registry, Jessica told this deeply personal story. The result? Improved recruitment for Alzheimer's studies.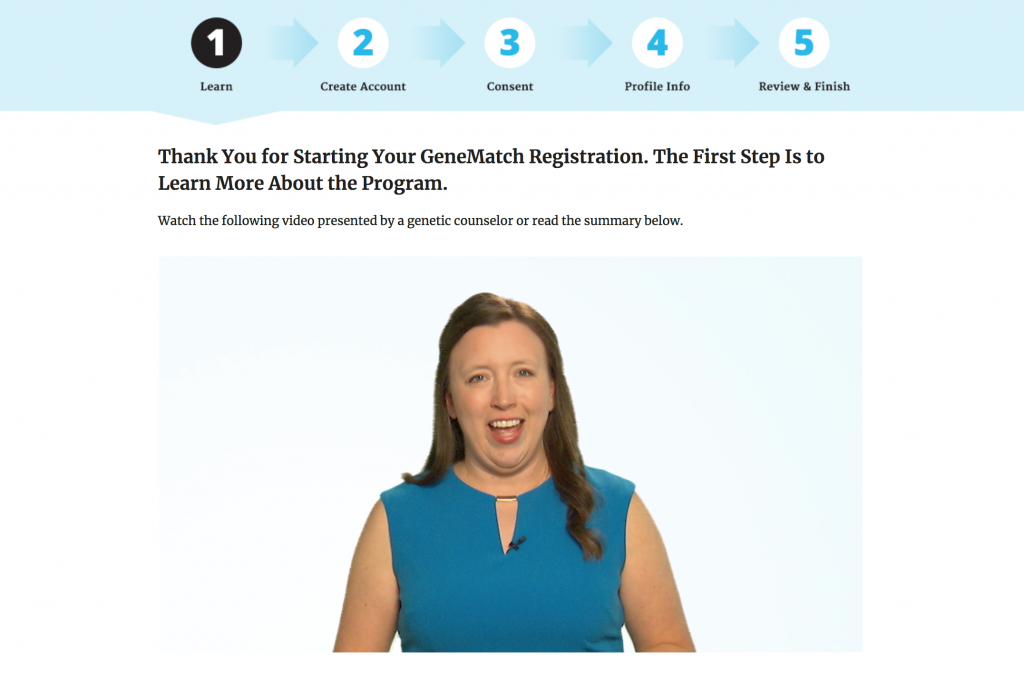 When we put researchers out front, the flow of the content is critical. This video featuring Beth McCarty Wood, a genetic counselor at the Center for Neurodegenerative Disease Research at the University of Pennsylvania, was created for the Alzheimer's Prevention Registry for its GeneMatch program. The video provides potential participants with important information about the program. In the initial web iteration, the video was positioned after text about the program. At the client's suggestion, the video was moved to a position before the text. The move paid off. Conversion rates improved more than 20% and helped power total GeneMatch signups to more than 30K, all at a record low average enrollment cost per person.
Personal Stories Diversify Studies
As we find that health outcomes are so often determined by factors like where we are live and our personal genetic code, researchers need to engage a truly diverse population. This includes communities that have traditionally been underserved by health studies and in which distrust of research studies may be widespread. By putting a human face on what they may see as an impersonal machine, we can build trust that leads to more robust recruitment.
There is evidence that putting researchers out front can help to make this happen. In a 2016 study published in the journal for the American Association for Cancer Research, researcher Jameisha B. Brown reported that people in underserved minority communities are more likely to participate in clinical studies if invited by a doctor.
The Big Picture: Researchers Out Front, Everywhere
The big, picture, of course, moves beyond basic outreach materials. It's about making real, individual researchers the mainstay of all of your outreach. To do this, go where the people are—conferences, hospitals, online communities and news outlets, both local and national. Help the public see the people behind the work.
Of course, we don't want to make researchers the only heroes; we want to show that study participants are heroes, too (Look for that in a future insight.) But the first step is breaking down barriers and connecting potential participants with people they trust.
For more insights…
Read from our collection of Health Study Recruitment Insights.
Visit Provoc's Health Study Recruitment Program to sign up by email, and learn more about innovations in health study recruitment.