Small Changes Can Yield High Conversion Rates
For most organizations involved in research study recruiting, keeping a website in optimal condition can be a challenge. Over time, site performance, as measured by traffic or successful signups, can drop. The images and the site design can begin to look dated. And new technologies often emerge that you hope hope will be a more effective way to communicate with and engage your audience. When this happens, stakeholders often decide to do a major relaunch. They assemble a creative team, and rebuild the site from the ground up.
But the truth is, the major-relaunch approach is falling from favor—and for good reason. Big redesign is expensive. It's slow. And worst of all, it may not accomplish the goals you want it to achieve. That's why more and more organizations are turning to iterative redesign. Making small, fast changes and carefully analyzing their effects can make your site more engaging and effective, delivering a bigger bang for your buck.
The Drawbacks of Big Redesign
There's nothing more thrilling than the day a new web design is unveiled. But hidden beneath that shiny new surface you'll likely find some flaws. And chances are the process that got you there was slow, expensive, and stressful.
"The big redesign almost never launches on time. And it almost never launches on budget," says Marketade's John Nicholson. "In a big project, all the stakeholders think it's their only chance to make the changes they want. So the wish list grows. The research gets more complicated, and the project falls behind. The team gets worried, because they know the old site is costing them signups. They want the new site to launch faster, so research and testing time gets sacrificed. You don't find out where the problems are until it's too late."
The Advantages of Iteration
Making the move to iterative design makes many of those problems vanish. "The beauty of the iterative approach," says Nicholson, "is that you get changes in front of the users much faster. You are going to get things wrong using either approach, but with more frequent iterations, the cost of being wrong is much lower and you are going to change course much easier."
In addition, Nicholson adds, the issue of stakeholders trying to pile on pet features disappears, since they know that another release will be coming up soon. A quick release schedule also improves morale among creative teams. "We forget the negative effects of Big Design on creative teams," says Nicholson. "It's demoralizing." Instead, he says, "Break it up in small pieces and learn along the way. You get much more chance to celebrate what works."
Using Science, Not Instinct
To make iterative design work, Provoc uses a process that relies on science, not instinct. After an iteration, we define success, run experiments, measure results, and use what we've learned to make the next innovation. The process is constant, the risk is low, and the impact is great.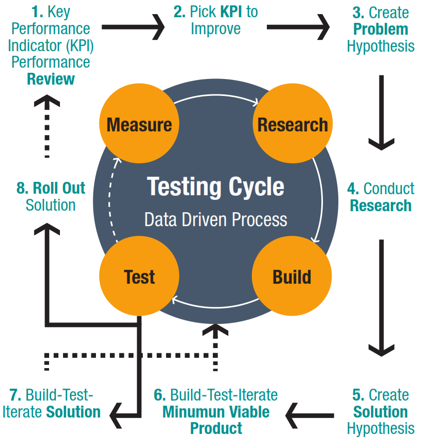 According to Provoc Director of Creative Strategy Tim Bardlavens, research proves the power of iterative design. And he says you can literally start small. "It seems like the choice of a button color would be something totally arbitrary. But believe it or not, by tweaking that small aspect of design, we have increased engagement by as much as 30%."
Bardlavens points out that text changes can also have a big impact. "We want to make very clear to people what we want them to do, and make sure they feel safe doing it. We also have to make sure the amount of text is appropriate to the audience and the goal." He compares work with a science-driven organization such as the McKnight Foundation with an advocacy driven one like Beyond the Bomb. In the former case, testing supported the more text-heavy approach needed to explain scientific concepts. In the latter, shorter text blocks focused on pushing the audience to take immediate action.
No matter what your organization's communication tone or its audience, it's important that every action of an iterative process is supported by research. Employing usability testing in the development of a new page or a first iteration helps ensure a solid starting point. The idea is to steer clear of big problems, and hone effectiveness through small tweaks. It's about being nimble, using resources effectively, and moving steadily toward your goals. And it works.
For more insights…
Read from our collection of Health Study Recruitment Insights.
Visit Provoc's Health Study Recruitment Program to sign up by email, and learn more about innovations in health study recruitment.