Crafting language for the head and heart
Anyone tasked with recruiting participants for a clinical trial or registry faces a major challenge: asking people–sometimes sick people who face an uncertain future–to take a leap into an experimental endeavor. The word "trial" itself conjures up risk, unpredictability, and anxiety, hardly sentiments that encourage action. Copywriters also work within the context of rules for human subject research that mandate IRB approval of recruitment materials. Given these challenges, can marketing copy really convince a reluctant person to join a trial or registry?
The answer is absolutely, yes it can. Language is perhaps the most powerful tool we have to fill recruitment rolls. Our world is so often full of complexity and ambiguity. Language can build a chain of facts and information. When strung together, these facts become a bridge to trust and credibility. At the same time, the right language can motivate by subtly shifting the way readers perceive themselves in relationship to the disease at hand. In the few seconds it takes someone to read your copy, you've given them the confidence and optimism they need to slip into a more decisive, action-oriented stance.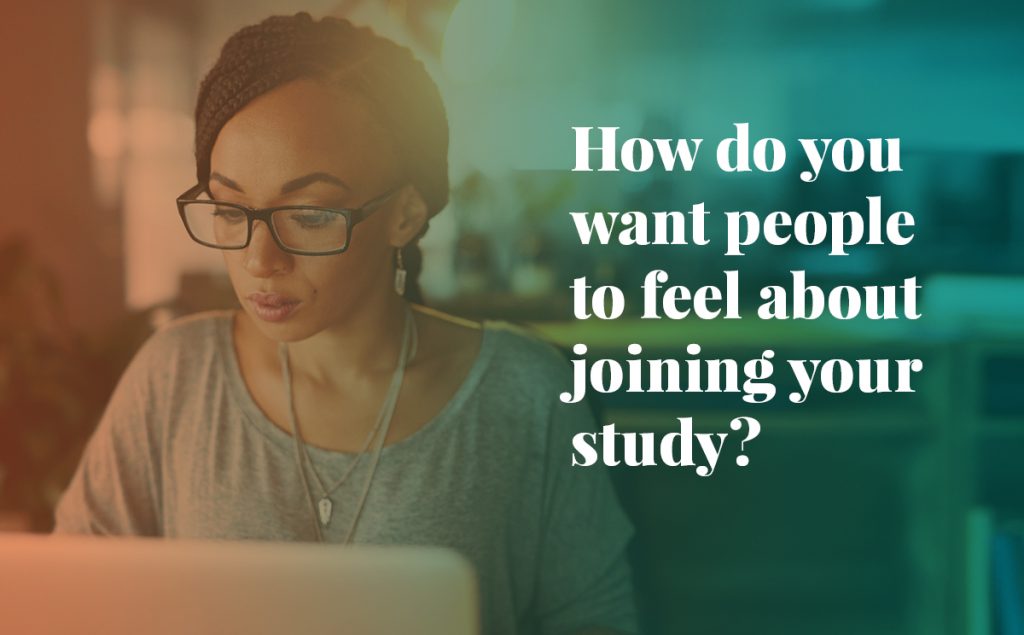 Let's explore some general principles for writing recruitment materials that can help build bridges and encourage action.
Adopt clarity and transparency to achieve trust.
It's no secret that many people view drug companies or the medical establishment with fear and distrust. Be upfront about what you doing–clearly communicate the science behind your study, its parameters for eligibility, and other key information people will want to know right away, such as dates or locations. You can also earn trust by acknowledging the limitations of your work. We don't know the outcome of a given study and we can't make promises. Instead of overpromising, your language should be empathetic, showing readers that researchers are also affected by the disease you're studying and are committed to the fight. Transparency is also a key factor in earning IRB approval. Example of this in action: succinct, clear content on "Science Behind the Study" for the WeCan Study helped to hit an ambitious recruitment target in just 3 weeks.
Emphasize action and create a sense of momentum.
The word "patient" conjures passivity and powerlessness. Shift your story so that participants aren't patients, but advocates and allies. Invite readers to take even a small step, such as signing up for an email list. Even small actions encourage a mindset shift from passivity to action. Frame your study as part of a campaign to end a disease, and be clear about what you want people to do to help propel that campaign forward. Example of this in action: Recruitment copy for a registry focused on brain disorders issues a clear call to action to "citizen scientists" to join the effort to advance science on frontotemporal dementia.
Use language that cues hope and optimism.
Readers may feel overwhelmed, scared, or hopeless, as they or someone they love confronts serious questions related to their health. Language in your recruitment copy should be personal, connecting each individual directly to a broader narrative showing that research can offer a path to hope. At the same time, the copy accentuates the work that's been done and that's underway to find cures, showing that optimism is grounded in evidence and outcomes. Once you've shifted the mood from anxiety to hope and shown individuals their connection to ending the disease, they are more likely to take the leap and sign up for a study. An example of this in action: readers learn that progress toward an end to Alzheimer's is real, and optimism is rational, based on the science in progress.
To be sure, distrust, fear, and anxiety are serious obstacles. The right language can overcome these hurdles by conveying credibility (facts, transparency, clarity) and situating a reader as a key contributor to the work underway to end a disease. When coupled with user experience design that is focused on conversion, recruitment copy is a powerful tool for signing up readers to your clinical trial or research study.
For more insights…
Read from our collection of Health Study Recruitment Insights.
Visit Provoc's Health Study Recruitment Program to sign up by email, and learn more about innovations in health study recruitment.